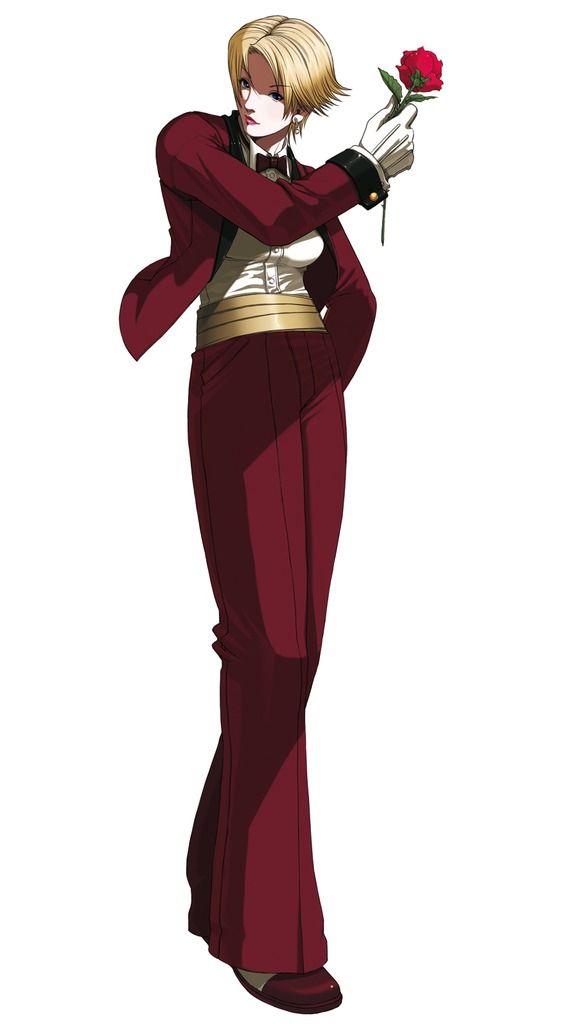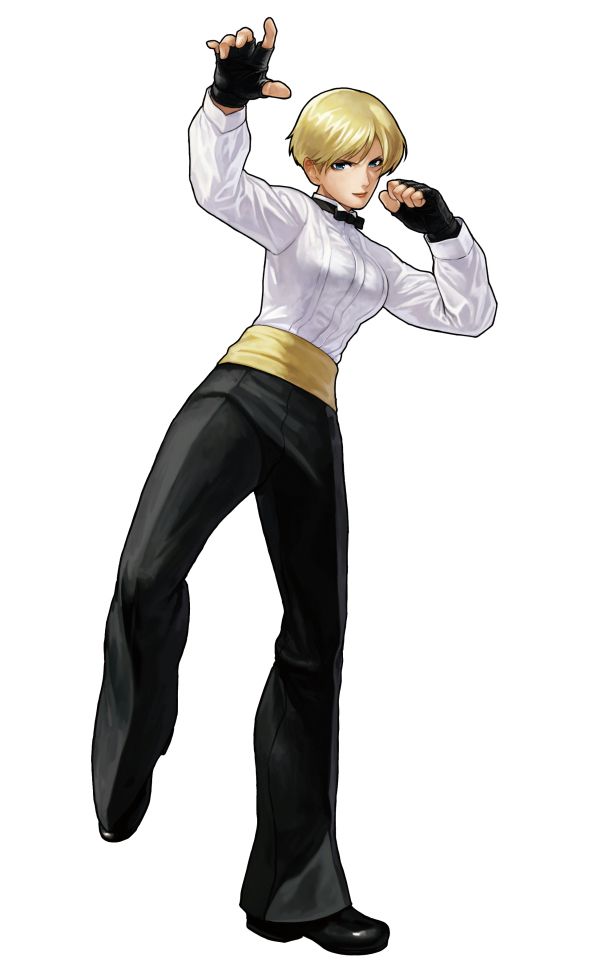 KING
Power Level 7
Team: England/New Gorgeous/Women's
Style: Muay Thai
Blood Type: A
Strength 1
Speed 1 Control
Stamina 0
Life Bar 90
Fighting Spirit 118
Accuracy +2, Control +1, Damage +2, Defense +1
Qualities: Attractive, Interesting Appearance (Tomboy)
Weaknesses: None
Quirks: In Love, Loves Combat
Combat Skills: Defense/Evasion/Tactics 4, Ki 7, Combo 4
Narrative Skills: Acrobatics 7, Agility 4, Athletics 3, Danger Sense 4, Grim Determination 5, High Society 7, Knowledge: Billiards 6, Occupation: Bar Owner 8, Perception 7, Reaffirm Purpose 6, Smooth Talking 3, Street Society 4, The Fighting World 5, Thug Thrashing 6
Hold Rush: L2
Throw (2), Inc Dam
Acc +3, Dam 1d8+2
Hook Buster: L2
Throw (2), Hurl
Acc +3, Dam 1d6+2
Sliding Kick: L2
Hits Low, Knocks Down (2)
Acc +2, Dam 1d8+2
Venom Strike: L3
Ranged (2), Inc Dam (2)
Acc +2, Dam 1d8+2
Surprise Rose: L4
Aerial, Hard to Evade, Inc Dam (2)
Acc +2, Dam 1d10+2
Trap Shot: L4
Inc Glory, Knocks Down (2), Inc Dam (2)
Acc +2, Dam 1d10+2
Double Strike: L5
Hard to Evade, Ranged (2), Inc Dam (3)
Acc +2, Dam 1d8+3
Mirage Kick: L5
Mobile, Full Screen, Inc Acc (3), Inc Dam
Acc +3, Dam 1d6+3
Tornado Kick: L5
Knocks Down (2), Mobile, Inc Dam (3)
Acc +2, Dam 1d10+3
Silent Flash: L5 Super
Aerial, Breakthrough (2), Invincibility (2), Unique, No Move (-1), Inc Dam (5)
Acc +2, Dam 1d12+4
Illusion Dance: L7 Super
Breakthrough (4), Inc Glory, Invincibility (2), Mobile, Inc Damage (6)
Acc +2, Dam 1d12+5
King appears first as a villainous character in Art of Fighting, where her gender was a secret, evidently to keep her safe in the mean streets of Southtown. The revelation of her gender was revealed if she was defeated with a Super Move, in which her shirt is ripped open, revealing her bra underneath. My first exposure to her, however, was in King of Fighters, where early on her appearance was already more feminized. Now she is generally portrayed as an attractive woman who happens to have short hair and wears men's formal wear.
She fights to make her younger brother proud, but otherwise has little story connection to the events of the Orochi saga. She is also attracted to Ryo Sakazaki.
As a character, she is fairly straightforward to play. The only thing that is slightly tricky is that most of her Special Moves are L4 or L5, requiring consistent Control, but that's not likely to be an issue with her Speed and Control Bonus. I made her Combo Skill low, but her damage is pretty high.