Gunnery Sergeant Ronald Lee Ermey, USMC (Ret.), passed away earlier today due to complications from pneumonia. He was 74.
R. Lee Ermey is best known as an actor, famously playing Gunnery Sergeant Hartman in
Full Metal Jacket
and dozens of other films where he played some variation on that same character. He appeared in dozens of other roles, from children's movies to comedies to serious dramas. He also devoted his entire life to serving the United States, both as an active duty Marine, and as a spokesman, fundraiser, and general booster for various charities, non-profits, and other worthy causes.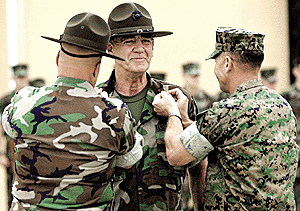 On May 17, 2002, Ermey received an honorary post-service promotion to gunnery sergeant (E-7) from the Commandant of the Marine Corps General James L. Jones in recognition of his continuing support to Americans in military service. To the best of my knowledge, Ermey is the
only
person to ever receive a post-service promotion from the Marine Corps.
Normally, in this sort of memorial one ends by saying something like "God rest ye," but we all know the Gunny won't rest until given orders to do so by his superior officer... and the Almighty isn't in the Marine Corps' chain of command. So I'll just say "Semper fidelis." and "Oorah!"
Space: Above and Beyond (Ep. 1) wrote:SgtMaj. Frank Bougus: In space, no one can hear you scream, unless it is the war cry of the United States Marines!