Posts: 421
Joined: Sun Nov 13, 2016 8:46 am
Contact:
Yeah, Karkull was pretty dope for a one-off villain. Certainly much better than his comic forebear, Ian Karkull: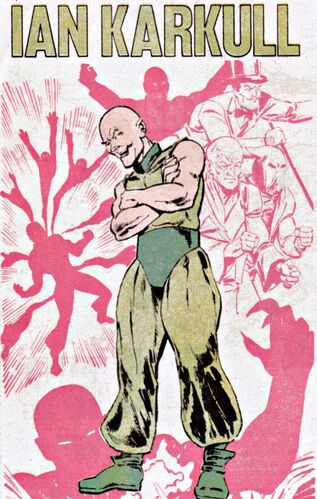 ---
Posts: 10490
Joined: Fri Nov 04, 2016 8:05 pm
16) Luthor builds a police battlesuit. Lois suggests he's trying to replace Superman, and Lex's joke, that she should "appreciate some extra rescuers" given her penchant for getting into trouble, actually gets a laugh out of CLARK in a funny bit. This one actually gets good really quickly, as Superman is glad to have a "partner", but the guy starts glory-hogging and ends up getting hooked on the suit as if it were a literal drug- the interface with his own neural net and the power the suit provides makes him arrogant, hot-headed and obsessive. John Henry Irons makes his debut as a LexCorp employee who quits over arguments with Luthor about how dangerous the suit can be. The fight with Superman (with Supes getting blinded by a point-blank explosion) is one of the more clever and dramatic fight scenes of the series thus far. One of the better ones.

17) Superman has to fake his death, after Clark Kent is "murdered" while reporting on whether or not a man has been framed for a capital crime. Desperate to keep his secret identity ("I'd go CRAZY if I had to be Superman all the time!"), he eventually discovers that a crooked cop did the deed and got an innocent man charged. We never really find out WHY the cop killed the woman (though my disc was skipping a bit at the crisis point), but he eventually loses (a police helicopter? With MISSILES? But still- it's Superman- just give up). He eventually comes up with a way to keep his identity (calling Lana to "help" an injured Clark, who of course laid low for a bit) after Lois digs and finds out the one witness was half-blind. A bit of a neat one, though the "Film Noir" narration isn't really that solid. Lois mourning Clark a bit ("I LIKED him- I really did.") is solid. The best moment is the guy's revelation just before they gas him- "He's SUPERMAN!"

This is pretty dark for a cartoon, though. Even Batman: TAS rarely had people deal with the death penalty, much less being seen on screen right before someone switches on the gas.
---
Posts: 10490
Joined: Fri Nov 04, 2016 8:05 pm
18) Ugh, another Metallo one. Punch punch, kryptonite thing, weakened Superman, more punching. At least Steel makes his debut, though his outfit looks ridiculously plain without the "S" shield or giant flying cape. More punching, Steel starts losing, Superman recovers thanks to Steel and starts losing, then Steel wipes out the kryptonite power source, and is our new hero. Every Metallo episode is kind of the same thing.
---
Posts: 10490
Joined: Fri Nov 04, 2016 8:05 pm
SEASON THREE:
1) We start off with Maxima beating the hell out of a guy, screaming at everyone around her in a raspy voice, barking commands, then taking a bath while contemplating demanding someone breed with her. WELP, I'm in love already. Then she goes to Earth to find her "equal partner" in Superman, engages in a fistfight the second he rebuffs her advances, then practically climaxes and tears up when he proves to be as strong as she is. STOP IT EPISODE I CAN ONLY GET SO EREC-- I mean, this is okay. The animators are clearly having a blast, having the curvacious, buxon Maxima take all sorts of "hip-sway" contraposto poses, with long hair cascading down.

She and Superman end up captured by a new dictator after Maxima's Ladies Maid betrays her, but they beat the giant tentacle-worm (just like me while watching this epi-I MEAN WAIT), and Supes lets her down easy, repeatedly chiding her about the ways a proper monarch should behave. He points out some of the reasons WHY the people aren't so upset to have her deposed, even while putting her back on the throne. Amazingly fun episode, even if they save the day with ridiculous ease.
---
Posts: 10490
Joined: Fri Nov 04, 2016 8:05 pm
"Apokolips Now!"
2-3) A big two-parter, this one FINALLY introducing the full story Darkseid and the New Gods, after thirty-six freaking episodes of build-up and the occasional hint of what's going on. Mannheim, their human agent, sends some Killer Hovertanks to harass Superman, leading to Orion's debut, where he saves the day and explains the full backstory of New Genesis and Apokolips, then adds that he's the son of Darkseid himself. Watching Superman basically become a helpless simp against these things is pretty weird, though I imagine he'll quickly "level up" and start mowing these things down soon enough. A neat bit sees Maggie Sawyer get hurt and Dan Turpin swear revenge, while a woman who COULD be Maggie's sister, but is clearly the writers throwing in a girlfriend, sits worriedly at her bedside.

The second part is REALLY good, as Superman tries to stop a nuclear explosion from turning Earth into Apokolips II, but is afflicted by Parademons and Steppenwolf. Steppenwolf is demolished like an absolute jobber by policemen in a helicopter, and Turpin, really just a minor backgrounder until now, leads this heroic rescue of police who fight and BEAT Apokoliptan technology and Mooks! Darkseid still comes in and whups on Superman after he saves the day, but Dan then frees Superman and gets ready for round two. At which point New Genesis arrives (with many unnamed but recognizable characters beside Orion) and wards Darkseid off.

In a great bit, Darkseid doesn't freak out or rage at this inconvenience- he tries to pass it off as no big deal by saying "I wouldn't want to sully our reunion with bloodshed" and "I won't quarrel over this insignificant speck". I mean, he's full of crap, but he'd never let THEM know that, so it's awesome. And then Turpin lays another verbal beatdown at the bad guys. At which point Darkseid just turns around, goes "victory has its price", and VAPORIZES HIM in one shot. A helpless Superman can only tear apart Darkseid's Apokoliptan Tank as the villains leave, and has to deliver the last word after Dan's funeral "In the end, the world didn't need a Superman- just a brave one."
---
Posts: 10490
Joined: Fri Nov 04, 2016 8:05 pm
4-5) Little Girl Lost: Aaaaaaaaaaaaaaaaaaaaand now we get the debut of Supergirl, who'd been curiously absent from the series up until this point. See, DC Editorial was REALLY cracking down hard on the "Last Son of Krypton" thing, necessitating "No Supergirl" edicts all over the place. There's a protoplasmic blob-angel in DC at this time period, and now we see a girl... from a Kryptonian colony? Er, "sister world".

Superman goes and finds Krypton, but doesn't really dwell on his old home, instead finding a distress call from its dead sister planet, where a woman attempted to freeze her family (who nearly all have died horribly, in one of the show's more disturbing sequences), but uncovers a survivor- a teenage girl. Who is OH MY GOD THAT OUTFIT- she's... she's flying around Kansas barefoot wearing a belly-shirt and skin-tight overalls!! My God! I'm a dirty old man because she's a teen, but JEEPERS, I'm only human!

So she immediately starts acting rebellious in Smallville, as we kind of just accelerate through any potential "learning phase", her mourning her lost family in the slightest, or her getting used to Earth at all (she already speaks English and can use all of her powers, and we never learn the names of her family aside from the head scientist), and she sneaks over to Metropolis to fight the new Intergang, which is supplied with Apokoliptican technology. She corrals Jimmy Olsen (in one of his biggest roles in the whole series thus far, actually) into helping her, but they're cornered by Granny Goodness... and her Female Furies. However, Supergirl whups on Lashina & Mad Harriet easily, and only Stompa can really put a hurting on her.

Superman arrives to save Kara, but then HE gets beaten, as Stompa stuns him and Lashina uses his big weakness (electricity) to put him down, and they bring him to Apokolips. Supergirl thus has to go and rescue him, and oddly THIS is our first reason "episode on Apokolips". The Furies bring Supes before Darkseid, but Kara saves him and manages to take the girls out (finally smashing Stompa repeatedly with a stone pillar), and then Granny & Lashina KO each other with their Electro-Weapons. Superman uses a Boom Tube to escape, then stops a Doomsday Weapon Darkseid & Granny had wanted to wipe out Earth (a "natural disaster" that wouldn't break his treaty with New Genesis). Darkseid has the Furies punish Granny for her failure while Supergirl is announced on Earth as a hero.

Not a bad pair of episodes, but I REALLY wish we'd have dealt more with Kara's backstory and home planet- it feels like they just sped over that to get to the real "meat" of the plot here, which is more Apokolips stuff. Some pretty decent fight scenes, and good characterization from Supergirl, though- she's impulsive, rebellious and kinda bratty, but ultimately cheery and likeable.
---
Jabroniville

wrote:

↑

Thu Oct 19, 2017 12:13 pm

Not a bad pair of episodes, but I REALLY wish we'd have dealt more with Kara's backstory and home planet- it feels like they just sped over that to get to the real "meat" of the plot here, which is more Apokolips stuff. Some pretty decent fight scenes, and good characterization from Supergirl, though- she's impulsive, rebellious and kinda bratty, but ultimately cheery and likeable.
I believe a bit more
was
done in the
Superman Adventures
comic that tied in to this episode. An episode of JLU referred back to that comic at one point ...
---
Posts: 10490
Joined: Fri Nov 04, 2016 8:05 pm
6) oooooooooooooh baby, it's the VOLCANA episode. Really, this one is all about the voice. The design is okay, but not overwhelming. But Peri Gilpin playing a deliberate sexpot? Unbefreakinglievable. On Frasier she was more brassy and tough- she slept around, but wasn't like a seductress (in one episode, a football player was downright TERRIFIED of her predatory advances!), but here? Yowza.

Turns out she was a victim of a government program taking advantage of kids with mental powers- as a pyrokinetic, she was meant to be a living weapon. Unfortunately, the guy in charge of her had his funding cut years ago, and now wants to sell her to a foreign nation that plans on taking her apart (or "playing" with her)- she gets captured, but Superman springs her (after perhaps uncharacteristically doing a "Batman" and just smashing into a government office and threatening to kill people). One scene makes it pretty clear she just burned several men alive (freeze-frame shows some falling while wreathed in flames).

And WOW, her Captivity Bikini. Following by an ACTUAL bikini once she's hiding away on a tropical island, with Superman paying occasional supply visits. Which she uses to flirt with him- hearing Peri Gilpin say "I hope you'll think of me... on those COLD Metropolis nights" is basically better than all the Bruce Timm-drawn nudie pics I've ever seen put together. Criminy, that woman. And then in Justice League she's just some generic criminal.
---
Posts: 10490
Joined: Fri Nov 04, 2016 8:05 pm
7) YESSSSSSSSSSSSSSS the legendary "Superman dressed as Batman" episode! So Bruce has gone missing, and the crime in Gotham is thus out of control, so Superman comes to town and disguises himself as Batman to settle things down. They gloss over the voice thing by suddenly deciding that Clark can mimic almost anyone's voice. Watching Superman basically walk through Bane's offense and then beat the ever-loving shit out of him is a great moment. Sadly, they stop dealing with Gotham stuff pretty quickly, discovering that Brainiac has taken over Bruce Wayne in order to build him a spaceship, which he uses to eject into space... but Superman just flies up there, blows up his ship with ease, and Brainiac has made his last appearance in the show. I feel like they could've done a lot more with Superbatman's interactions with Gotham (like the funny bit where Mad Hatter is creeped out by Batman's smiling, but extended).
---
Posts: 10490
Joined: Fri Nov 04, 2016 8:05 pm
9) Toyman finally makes his return, as it turns out the "Uncanny Valley" supermodel Darci Martin is Uncanny Valley for a REASON- she's a literal robotic doll, built to be Toyman's "wife". Except she makes a run for it to live the life she wants, and has to fight off Toyman to get it. Superman fights a bunch of Kill-O-Bots, while Darci seemingly sacrifices herself to kill Toyman in his helicopter, but reappears incognito.
---
Posts: 10490
Joined: Fri Nov 04, 2016 8:05 pm
10) Bizarro and Mr. Mxyzptlk team up. Mxy fools Bizarro into thinking that Superman and the others trapped him on another world so they could make fun of him, so Bizarro comes to Earth to kill Supes. This lets Mxy get around the whole "no messing with Superman" thing, but he's dragged before a Court of Imps (who are all Jewish, apparently), and banished to Earth without his powers. Bizarro does pretty well for himself, but is nearly killed by regular human beings until Superman leaps into the way. Convinced that the Man of Steel means well, Bizarro returns to his world, forcing Mxy to play in his "rescuing people" games. Not bad, but not particularly memorable.

11) The return of the Phantom Zone criminals, who are sprung by a whim of fate, but immediately take over the world of their saviors, turning it into a Communist Police State, where they rule all. Superman ends up there, and naturally disapproves. He's about to leave, regarding this not as his own fight (and not wanting to wreck the planet fighting them), but when he finds out they're building an armada to head to Earth, he plans to fight back. Unfortunately, he's immediately captured and thrown into a deathtrap, but is freed by a supposedly-loyal soldier of the Kryptonians. After a pretty quick fight, Superman heads for an Escape Pod, leaving the two to spiral into a Black Hole that is really well animated (an interview with the creators indicate how proud they are of that, as it was back when you couldn't "cheat" with computers)- you really had to pull off by hand with lights and everything). Superman notes at the end how "Evil triumphs when good men do nothing".
---
Posts: 10490
Joined: Fri Nov 04, 2016 8:05 pm
12) Green Lantern makes his DCAU debut! But of course it's Kyle Rayner. This one became a bit of a sticking point, as John Stewart was the GL in Justice League, with a full season going by before we'd find out where the hell Kyle ended up, making people think this was out of continuity (Dwayne McDuffie took some heat for that, but he said it was 100% Bruce Timm's call).

13) "Superman's Pal"- The episode the writers consider to be the worst, but it's not really that bad. Jimmy Olson gets some focus, as Angela Chen falsely reports him as "Superman's Pal" after faking some footage. Jimmy thus gets a ton of fans, but also some enemies, and soon Metallo kidnaps him using some floozy (disguised as a Daily Planet intern) as "bait". Standard Superman/Metallo Fight, but this time they squish him with cars after Jimmy throws battery acid onto his kryptonite heart.
---