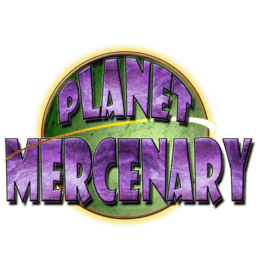 Who's up for going to exotic places, meeting interesting people, and then killing them?
-
Just remember Maxim 1 - Pillage, then Burn
So, I picked up a game named "
Planet Mercenary
" last year, based off of Howard Tayler's extremely long-running
Schlock Mercenary
webcomic. I'm currently playing it with my IRL group, but we can meet maybe once or twice a month, and some months, can't meet at all, so I'm looking to expand things by running a game on Roll20.net. It's a pretty lightweight system. You pick a character background, a command package (your role in the company), and a Sophont type (basically your race, which range from Humans to some very alien beings), and then allocate skill points and buy gear. The system runs on D6-cubed, a proprietary system where the primary mechanism is 3d6 + rank, but with the introduction of quirks where some weapons benefit from doubles, triples, or straights, and where there's an odd-colored die called the Mayhem die. Whenever you roll for a check and succeed, and the Mayhem die is greater than the other two dice, you draw a Mayhem card. Mayhem is sometimes good, sometimes bad, sometimes neutral, but is very seldom boring.
By it's nature, it's not a very good Play-by-Post game. Actions are resolved in "Speak first" order, which means there isn't a consistent initiative to work from. So I was thinking Roll20 would work well. I played a shakedown game not long after the product's release, including the great honor of having the game's designer, Alan Bahr, in on it. I think I can manage to explain things well enough to keep anyone from having to worry about buying the books, although they're well worth the buy, if for no other reason than the insight you get into Tayler's invented universe.
So, who might be up for some mercenary adventure?