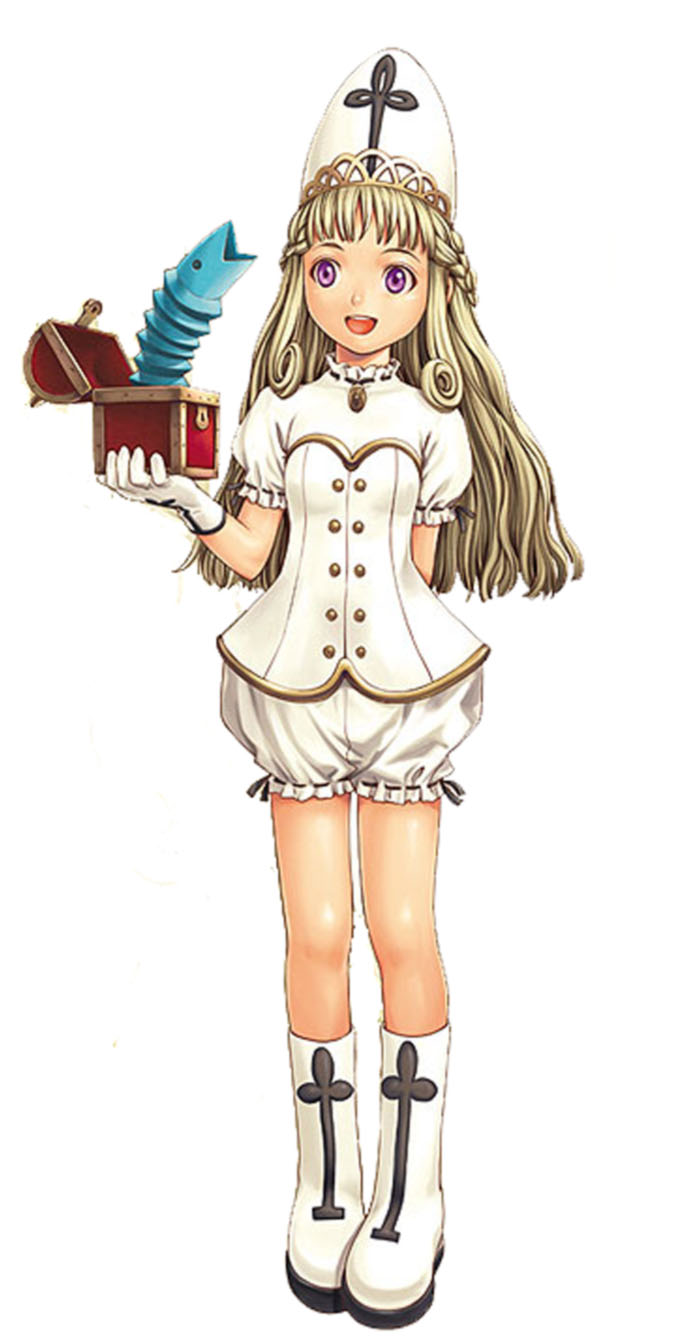 PRINCESS SISSY
First Appearance:
Matrimelee (2003)
Game Appearances:
Matrimelee, Shin Goketsuji 1-2
Home Country:
Certain Country
Role:
Kid Fighter, Princess
PL 9 (111)
STRENGTH
1
STAMINA
2
AGILITY
5
FIGHTING
13
DEXTERITY
2
INTELLIGENCE
0
AWARENESS
1
PRESENCE
3
Skills:
Acrobatics 7 (+12)
Athletics 10 (+11)
Close Combat (Unarmed) 3 (+16)
Insight 2 (+3)
Perception 4 (+5)
Persuasion 4 (+7)
Ranged Combat (Blasts) 6 (+12)
Advantages:
Defensive Attack, Improved Critical (Summon Djinn), Improved Critical (Princess Illusion), Improved Critical (Summon Blade), Ranged Attack 4
Power Instinct Fighting Style:
Accurate Attack (Light Attack), All-Out Attack, Defensive Roll, Fast Grab (Grab), Improved Critical (Unarmed), Improved Defense, Improved Hold, Improved Trip (Throw), Withstand Damage (Block)
Powers:
"Pink Box" (Flaws: Easily Removable) [6]
"Multiple Bombs" Blast 4 (Extras: Multiattack) (Flaws: Reduced Defenses 2) (Diminished Range -1) (7) -- (10 points)
AE: "Summon Djinn/Frog" Blast 4 (Flaws: Reduced Defenses 2) (Diminished Range -1) (3)
AE: "Princess Illusion" Affliction 6 (Toughness; Dazed/Vulnerable/Transformed to Frog) (Extras: Ranged) (Flaws: Limited to 1-2 Rounds, Reduced Defenses 2) (Diminished Range -1) (1)
AE: "Ratsei Reve- Summon Blade" Strength-Damage +2 (Inaccurate -1) (1)
Offense:
Unarmed +16 (+1 Damage, DC 17)
Special Moves +14 (+3 Damage, DC 18)
Summon Djinn +12 (+4 Ranged Damage, DC 19)
Initiative +4
Defenses:
Dodge +12 (DC 22), Parry +14 (DC 24), Toughness +2 (+3 D.Roll), Fortitude +5, Will +6
Complications:
Responsibility (Certain Country)- Since her older brother is not the ideal image of a King, Sissy's father wants to put her future husband in charge of Certain Country. Her job is now to marry a strong fighter and continue the royal lineage.
Total:
Abilities: 54 / Skills: 36--18 / Advantages: 8 + 9 / Powers: 6 / Defenses: 16 (111)
-So of course the fantastically-beautiful female that all of the characters in
Matrimelee
are trying to marry is... a TINY LITTLE GIRL?!? What the frickin' FRICK, Japan? Why am I surprised? At least, to be fair... she's not like, DESIRED by the rest of the cast- they just want to get rich and be in charge of a Kingdom, and this is the easiest way. But still- EWWWWWWWWWWWWWWWW.
-Princess Sissy is the Final Boss of
Matrimelee
, but also playable, and appears in the last two games as well. As her father wanted a strong fighter to marry her and continue the royal lineage (while she was placed on the throne ahead of her useless older brother), the tournament was declared- the winner getting her hand. However, the tournament is said to be a failure, and Sissy is despondent without the excitement of the tournament. Her father, concerned, declares the next tournament as well- the "Bonnou Kaihou" tournament.
-As a Final Boss who is apparently QUITE overpowered, the tiny Princess Sissy is actually one of the most powerful characters in
Power Instinct
history. She's apparently an "SNK Boss"-type fighter, but with an exploit that the AI is weak to simply rolling under her "Summon Djinn" power and smacking her from behind- she can get caught in a loop that way. Overall, I made her PL 8.5.