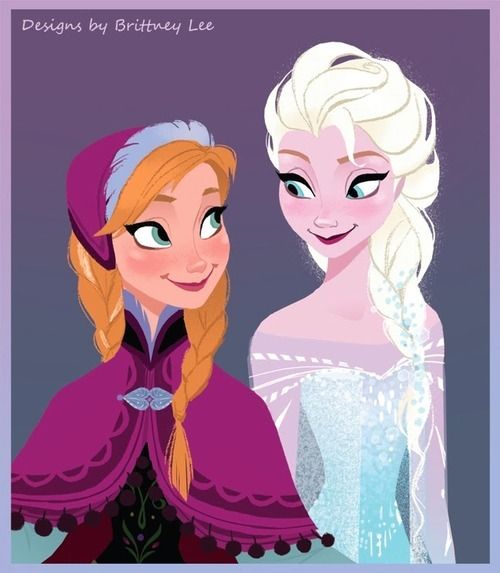 "No, WHY?! Why do you shut me out? Why do you shut the WORLD out? WHAT ARE YOU SO AFRAID OF?!"
-Anna, to Elsa after being refused permission to marry a man she just met
ANNA
Played by:
Kristen Bell
Role:
Disney Princess, Goofy Girl
PL 4 (55), PL 5 (55) Defenses
STRENGTH
1
STAMINA
2
AGILITY
3
FIGHTING
6
DEXTERITY
2
INTELLIGENCE
0
AWARENESS
0
PRESENCE
3
Skills:
Athletics 1 (+2)
Expertise (Singing) 4 (+7)
Perception 2 (+2)
Persuasion 2 (+5)
Stealth 1 (+4)
Advantages:
Improved Critical (Unarmed), Improvised Weapon, Ranged Attack 4
Offense:
Unarmed +6 (+1 Damage, DC 16)
Initiative +3
Defenses:
Dodge +5 (DC 15), Parry +6 (DC 16), Toughness +2, Fortitude +4, Will +6
Complications:
Relationship (Elsa)- Anna & Elsa loved playing together as children, but then one day, Elsa simply closed herself off without explaining why. Anna has longed for a relationship with her sister ever since (especially once their parents died, three years prior to now), and does not understand why this is impossible. When Elsa runs off and threatens all of Arendelle, Anna thinks nothing of her own safety, and runs off after her, feeling a combination of desperate attention and anger to the sister who forced her apart.
Responsibility (Naiive)- Having been closed off from the world during most of her childhood, Anna has a child's idea about much of the world, believing it a simple place where love comes quickly and easily. It isn't until she meets Olaf when she learns that love is about doing something for another, even if it hurts you to do it.
Relationship (Hans)- It's love at first sight for Anna and the handsome-but-clumsy 13-in-line for the throne of The Southern Islands. After an instant connection, they try to get married, but Elsa disallows it.
Relationship (Kristoff)- Anna is forced to team up with the burly, odd, sarcastic Ice Salesman to find her missing sister.
Temper- Anna is swift to anger, even if something else is much more dangerous than she is. She gladly comes out swinging at a pack of wolves, and even threatens a 16-foot Snow Monster.
Motivation (Curing Her Frozen Heart)- When Anna's heart is frozen by Elsa, only "An Act of True Love" can thaw it. So she begs Kristoff to take her back to Arendelle, where she can be thawed by a "True Love's Kiss" from Hans.
Total:
Abilities: 34 / Skills: 10--5 / Advantages: 6 / Powers: 0 / Defenses: 10 (55)
Anna- The Third-Most Popular Character:
-Anna (pronounced in the "Awn-a" style) is a bit of a rarity in the Disney Princess Franchise- a goofy weirdo who's not overly great at anything. Her character takes more than a little bit from Rapunzel and some of the other Princesses of course- even during the Renaissance, Disney was pretty bad at copying traits from one female character to the next- the "Wanting More" cliche has been replaced with the girls being quirky, socially-awkward and bizarre. It makes them quite a bit more identifiable to the modern breed of female than the '90s girls' Utter Perfection In All Things, but it wasn't entirely odd even then to have goofy-girls. Ariel had a good bit of girlish weirdness in her (but was MUCH more petulant), and Mulan was as complete failure at first, only developing later.
-So Disney isn't exactly hamstrung by the tired old "Strong Female Protagonist" thing that makes sure all women are flawless wonders, being unafraid to make the girls quirky. Kristen Bell (looking to make a comeback after her career basically stalled right the hell out post-
Veronica Mars
. I blame her having smaller eyes, since Hollywood is ALL ABOUT skinny girls with gigantic eyes these days) even admitted that she deliberately wanted to make Anna represent the modern girl by being a bit of a screw-up. Bell's a surprisingly-good singer, hitting all the high notes, but like I said, most of the movie's songs are a bit more forgettable, and she comes across as a "Generic Princess" in voice. Bell has a really funny, cute voice for all of the comedic scenes where Anna tends to babble, but falters a bit when it comes to the dramatic moments. I didn't see enough of
Mars
to know if she has the skills to play dramatic, but I'm gonna say she's more of a funny actress than a serious one just off of this film. And it's not for nothing that despite being the MAIN CHARACTER, she is only the third-most-popular character in it, behind both her sister and a snowman.
Anna The Adorbz One:
-Alas, I find her design a bit dull. She's cute and wide-eyed and all, but they basically transplanted their Rapunzel character with different hair. Her outfits don't particularly stand out either- I can't imagine what her Official Princess Dress will look like- most of the other girls use sparklier versions of their Iconic Outfits that everyone can notice at a glance, but Anna takes a big backseat to her sister's glory here. Even so... I think she's a bit unfortunate in having been forgotten by many fans in favour of her sister. She's a GOOD CHARACTER, and absurdly-cute throughout the entire film. Her petulant behavior with Kristoff is absolutely ADORABLE, and she's just so endearing, and it's actually kind of neat to have such a flawed heroine learn something by the end of the movie.
-Though Elsa is the runaway success of the movie, Anna has actually managed a bit of a comeback in recent years, as her cuteness IS really endearing. Many gifs have been made of her adorable expressions and cute, perky smile, with a particularly common one being her "cheering face", where she straight-up pumps her fists like a little kid. I think an underrated moment is when she buys Kristoff's climbing supplies, then demands he take her to the North Mountain. When he finally agrees and says they'll go the next morning, she goes "No... we leave now. RIGHT now." with this great, unconvincing attempt at being "take charge", complete with a measured re-attempt at a forceful pose. Anna's cheerful demeanor and caring nature has made her really popular, and though not the phenomenon that Elsa is, Anna is VERY popular with little girls.
-She's just HILARIOUS and super-endearing in
For The First Time In Forever
, running around the castle like a little kid, dreaming about handsome men, accidentally throwing a bust into a cake, shoving chocolate into her face, and accidentally whapping herself in the mouth with a curtain's drawstring. And the strength of character she shows in the movie's finale is remarkable- you can FEEL the agony in her heart from being slowly frozen to death, and she can see the instrument of her salvation when Kristoff arrives... but she finds the strength to ignore him and move on to save Elsa from Hans's sword. This sacrifice was an INCREDIBLE bit of movie-making.
Post-Frozen Anna:
-Anna's usage in the stuff set after the movie is interesting- she acts largely the same in
Frozen Fever
, but takes a motherly, concerned look at an increasingly-sick Elsa ("Okay, to BED with you"). Her giant, wide-eyed reaction to the Snowgies ("WOWWWW!") is super-meme-able, though.
Olaf's Frozen Adventure
and the books & comics set after the movie use her more as a Generic Friendly Disney Princess, where she's more restrained and calm. Kind of less fun, in a way.
Anna's Stats:
-Anna is actually the most inept Disney Princess by a ways. She lacks the poise, social grace, charisma, intelligence, athleticism (her hilariously-bad attempt at climbing a mountainside is a notable example of a pretty mediocre Athletics Skill) and ability to speak to animals of her peers in the Princess Franchise, but makes up for it in sheer pluck and determination. She's actually a pretty remarkable fighter, though- she's really good with makeshift weapons, helping to fend off a pack of wolves (apparently getting lost on their way from The Beast's castle) that are really just there to give the young boys some action to look at in the trailer. She's still got a good bit of willpower (she keeps going despite INTENSE agony when Elsa's errant blast freezes her heart and begins to freeze her solid) and a willingness to sacrifice herself for someone she loves (as Olaf pointed out).
About the Performer:
Kristen Bell is a fairly minor celebrity, being somewhat known, but was largely introduced from a TV series with a Doom Patrol Fandom (
Veronica Mars
), and has the unfortunate luck of being completey upstaged in TWO major films- despite being the named character in
Forgetting Sarah Marshall
, she was only the 4th-most-popular character, with Mila Kunis taking her thunder (and becoming a much bigger star) and Russell Brand becoming a flash in the pan off of it. And of course,
Frozen
, in which she was the biggest celebrity star... but got completely upstaged by the Broadway performer playing her sister. Despite the shitty luck in her career, she still gets a lot of work- despite being in her late 30s, she still resembles a young woman (owing to clear skin and tiny figure). She was in the
Bad Moms
franchise, and was in a pair of recent TV shows, too-
House of Lies
lasted for five years before being axed (by low-tier network Showtime), and she's currently in
The Good Place
(which I've never heard of, but has lasted a couple of years). She kind of missed out on the current craze of "Tiny Actresses" for the reasons I mentioned above (small eyes, plus she's blonde instead of dark-haired, which is currently way-in).