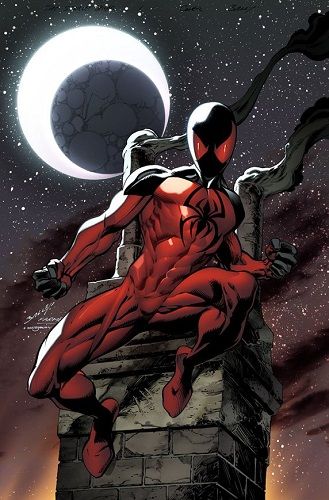 SPYDER
PL:
10 (150 pts) -
OPL:
10;
DPL:
10;
HP:
1
ABILITIES:
STRENGTH 8, STAMINA 6, AGILITY 10, DEXTERITY 0, FIGHTING 3, INTELLECT 4, AWARENESS 2, PRESENCE 0
SKILLS:
Acrobatics 0 (+10/+14)[
Agile Feint
], Athletics (+8), Close Combat [Unarmed] 3 (+6/+10), Expertise [Science] 4 (+8), Insight 0 (+2/+12)[
Assessment
], Investigation 1 (+5), Perception 2 (+4/+12), Stealth 2 (+12), Technology 1 (+5), Treatment 1 (+5)
ADVANTAGES:
Agile Feint, Assessment, Defensive Attack, Defensive Roll (1), Evasion (1)
, Fast Grab, Improved Grab, Luck (2),
Move-by Action,
Power Attack,
Uncanny Dodge
POWERS:
Spider-Sense:
Enhanced Advantages 7 (Agile Feint, Assessment, Defensive Attack, Defensive Roll 1, Evasion 1, Move-by Action, Uncanny Dodge), Enhanced Dodge 2, Enhanced Parry 2, Enhanced Skills 9 (Acrobatics 4 ranks, Close Combat [Unarmed] 4, Insight 10 ranks), Enhanced Skills 2 (Perception 8 ranks, Flaw: Limited to Danger Sense checks), Senses 3 (Danger Sense [Mental, Ranged, Extended); 25 pts
Does Whatever a Spider Can:
Leaping 1 (15 ft), Movement 2 (Wall-Crawling 2 [Normal speed]), Speed 1 (4 mph/60 fpr), Enhanced Strength 1 (12 Tons, Flaw: Limited to lifting); 7 pts
Retractable Claws:
Strength Based Damage 2; 2 pts
Spider Trap Door :
Teleport 9 (2 miles; Extras: Increased Mass 5 [1,600 lbs], Precise, Subtle); 25 pts
OFFENSE:
Initiative +10
Close Attack +3
Unarmed +8 (+10 with Spider Sense) [Unarmed +8, Claws +10]
Ranged Attack +0
DEFENSES:
Dodge +11 (+13 with Spider Sense) [DC21/23] Parry +11 (+13 with Spider Sense) [DC21/23]
Toughness +7 (+6 without Defensive Roll), Fortitude +7, Will +5
COMPLICATIONS:
Enemy:
Stormlord, Magico, Stunner, Changling, The Boss, Bull, Orion the Hunter and on and on...
Guilt:
He still has great guilt over the death of his parents death. It drives him to discover the truth behind their deaths.
Relationships:
Catherine "Cat" Anderson, girlfriend. Dave, Mary, Sean, classmates and gaming friends.
Responsibility:
With great power comes great…
Secret Identity:
He has his secret identity of Jason Reynolds, which he guards fiercely thanks to his Rogues' Gallery.
Abilities 66 + Skills 7 (14 ranks) + Advantages 5 + Powers 59 + Defenses 13 = 150 / 150
Build and Background Comments:
Jason is obviously a Spider-Man riff with a twist. I've always enjoyed the idea of a Rogue's Gallery and this setting seems perfect for that kind of potential game play.
Jason tested out of high school at the age of sixteen, after his parents died in a car wreck under mysterious circumstances. Three years later he is a grad student at John Hopkins University. He came into his powers his Freshman year as an intern for the research department in one of New York's biggest tech companies. While maintaining and monitoring an experiment for a Quantum Matter Transfer Device, the city was hit with a class 4 Hurricane.
Lightning struck the research laboratory Jason was in, and he was caught in the explosion while trying to shut down the generator whose safeties had been destroyed by the storm. He woke up in the ruined laboratory covered in spider bites from the arachnids that has somehow escaped the QMTR's containment chamber. Fire was spreading up and down the building and Jason was trapped on the top floor. Firefighters couldn't reach him and his mind was screaming for him to do the impossible and jump.
With the building collapsing underneath him, Jason somehow
knew
no matter how crazy it sounded, he was in more danger staying than trying to jump to the closet building. With a running start he jumped eyes closed and felt a ....
blink
. Feeling twisted around, Jason opened his eyes and found himself clinging to the side of the neighboring building looking down across four lanes of traffic at the emergency vehicles far below.
That dark evening after "borrowing" some Under Armor from a local sporting goods store, he helped another hero capture the weather villain Stormlord. Jason now continues studying to follow in his parents footsteps as a scientist during the day and protects the citizens of New York from predators at night.