BARAKA:
He's an odd case, because he's a guy who was given a distinctive gimmick and pretty bad-ass appearance, but ultimately ended up being used as the franchise's "Jobber To The Stars". He never BEATS anyone, and every subsequent game just uses him as "a guy working for The Guy"- not even the main henchman or sub-boss... just some evil dude loyal to the Big Evil.
I still wish they'd used the original design for him: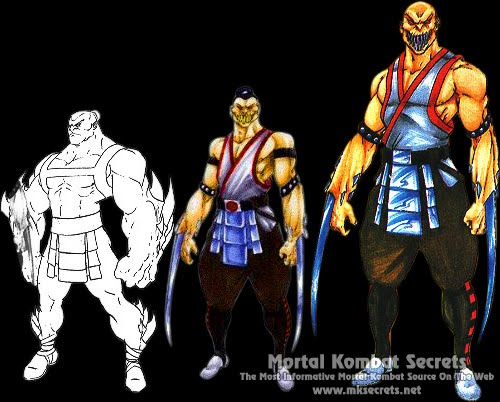 REPTILE:
Reptile holds a special place in video game history for being THE "Secret Character" back in the day. Fighting him in The Pit soon became a legend, even though he was just a Green Sub-Zero, sped up to hell. He also makes the weirdest appearance in the movie, as he's just this screeching beast using the world's worst CGI, until Liu Kang kicks him into a statue, which OF COURSE turns him into a Lin Kuei knock-off (complete with narration of his name, for no apparent reason), just for the sake of another fight scene. Of course, in a Martial Arts Movie, that's the BEST reason to have a character show up!
RIPTOR: Riptor's one of the first times I saw video gaming really attempting to emulate the addition of a new Dino to the "Big Five" (effectively replacing Ankylosaurus in the group- T-Rex, Triceratops, Stegosaurus, Sauropods of any type, and now Dromaeosaurs), though the body type was oddly top-heavy and bulky, because... well, it's
Killer Instinct
.