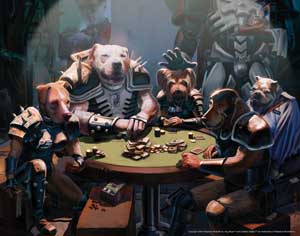 DOG BOYS
Rifts Characters
Power Level 6 ( 80 PP )
ABILITIES
Strength
2
Stamina
3
Agility
2
Dexterity
2
Fighting
3
Intellect
-1
Awareness
3
Presence
0
SKILLS
Athletics 3 (+5), Close Attack [Unarmed] 4 (+7), Expertise [Soldier] 5 (+4), Intimidation 4 (+4), Perception 5 (+8), Ranged Attack [C.S. Weaponry] 2 (+4), Survival 6 (+5), Treatment 3 (+2)
ADVANTAGES
Diehard, Equipment (8), Teamwork (1)
POWERS
•
Bite Damage 2
(Strength-based;
F:
Grab-Based) [ 1 PP ]
•
Keen Sense of Hearing Senses 2
(
Auditory:
Accurate, Ultra-Hearing) [ 2 PP ]
•
Mind Block Enhanced Defense 2
(+2 Will;
E:
Impervious [4];
F:
Limited to Telepathic Descriptor) [ 5 PP ]
•
Sense Magic and Psychic Energy Senses 10
(
Mental:
Accurate, Acute, Awareness [Magic], Awareness [Psychic], Danger Sense, Ranged Detect [Magic], Ranged Detect [Psychic], Tracking) [ 10 PP ]
•
Superior Sense of Smell Senses 5
(
Olfactory:
Accurate, Acute, Analytical, Extended [1], Tracking) [ 5 PP ]
EQUIPMENT ( 40 EP )
•
"Dog Pack" DPM Riot-Armor Protection 5
(
E:
Impervious [5]) [ 10 EP ]
•
C-18 Laser Pistol Damage 8
(
E:
Ranged;
F:
Diminished Range [1]) [ 15 EP ]
•
Vibro-Claws Damage 7
(Strength-Based;
E:
Penetrating [2], Split [1]) [ 10 EP ]
•
Binoculars
[ 1 EP ]
•
Gas Mask
[ 1 EP ]
•
Handcuffs
[ 1 EP ]
•
First-Aid Kit
[ 1 EP ]
•
Walkie-Talkie
[ 1 EP ]
DEFENSE
Dodge
(4)
Base 2
Parry:
(4)
Base 1
Fortitude:
(3)
Base 0
Toughness:
(3/8)
——
Will:
(3/5)
Base 0
WORKSHEET

Attack: 7 Effect: 2 Total: 9 (Unarmed)
Attack: 7 Effect: 4 Total: 11 (Bite)
Attack: 4 Effect: 8 Total: 12 (Laser Pistol)
Attack: 3 Effect: 9 Total: 12 (Vibro-Claws)
Dodge: 4 Tough: 3/8 Total: 7/12
Parry: 4 Tough: 3/8 Total: 7/12
Fort: 3 Will: 3/5 Total: 6/8
ABILITIES
[ 28 pp ] +
SKILLS
[ 16 pp ] +
ADVANTAGES
[ 10 pp ] +
POWERS
[ 23 pp ] +
DEFENSES
[ 3 pp ] =
80 PP TOTAL
COMPLICATIONS
Responsibility (The Coalition States)
Dog Boys are literally born to serve the Coalition States and indoctrinated from birth to uphold the virtues of the C.S; Dog Boys who "go feral," by betraying the CS in any way, are subject to summary execution.
Prejudice (Obvious Mutant, C.S. Loyalists)
Dog Boys are very clearly mutant animals and well-known as the "attack dogs" of the Coalition States. Within in the C.S., they're seen as little better than trained animals; Outside the C.S. they're widely mistrusted by the C.S.'s many enemies.
Hatred (D-Bees, Psychics, Magic)
Background:
Dog Boy is the nickname given by Coalition States armed forces to the humanoid psychic-sensitive, mutant animals they use to sniff out psychics and supernatural beings within C.S. territory. The name is often applied regardless of the individual's gender. The Dog Boy is genetically uplifted from domestic canine or wolf stock in the laboratories of the Coalition State of Lone Star and exported to the other Coalition States. Dog Boys in service to the Coalition are most often encountered in small groups led by a Psi-Stalker, with whom they are usually very close. Such beings in the employ of NTSET are often termed "Psi-Hounds."
The Coalition States value the Dog Boy's life very little, viewing them as working animals with few or no rights of their own. Occasionally a Dog Boy is released from Coalition service, or deserts, and such Dog Boys may take up the life of a wandering adventurer, doing their best to protect the remnants of human society from the supernatural threats that surround it.
The Dog Boy is a bipedal humanoid modified from a domestic dog such as a terrier or golden retriever, or a wolf. He or she has two hands with four fingers and fully disposable thumbs. The Dog Boy's head resembles that of the breed he was uplifted from, and is proportioned to his body. He stands between four feet and six feet, eight inches tall, and adopts a slouched posture. When speed is necessary, a Dog Boy will get down and run on all fours, increasing his pace but preventing him from carrying anything in his hands. His brain has been augmented, and is very much the same size as the average human's. A Dog Boy has limited color vision, sharp ears, and an even sharper nose.
Specific breeds of canine used as the basic for any given Dog Boy may influence their game mechanics, such as adding Swimming (for aquatic breeds) or Speed (for greyhounds), perhaps adding Shrinking or Growth to represent smaller or larger breeds.
Notes:
I <3 Dog Boys. I'm generally not fond of anthropomorphic animals in role-playing games -- I am about as far from being a "furry" as you can get -- but in the case of RIFTS' Dog Boys, the books deliver a remarkably detailed look at the psychology, personality, and life-style of the Dog Boys. They're wonderfully fleshed out, not just by RIFTS standards but by the standards of any role-playing games' PC Race. The artwork for these guys is very hit or miss, most of the time, its great... Every now and again, you get something that looks like a dog's head crudely photoshopped onto a human body, with no sense of scale or proportion.